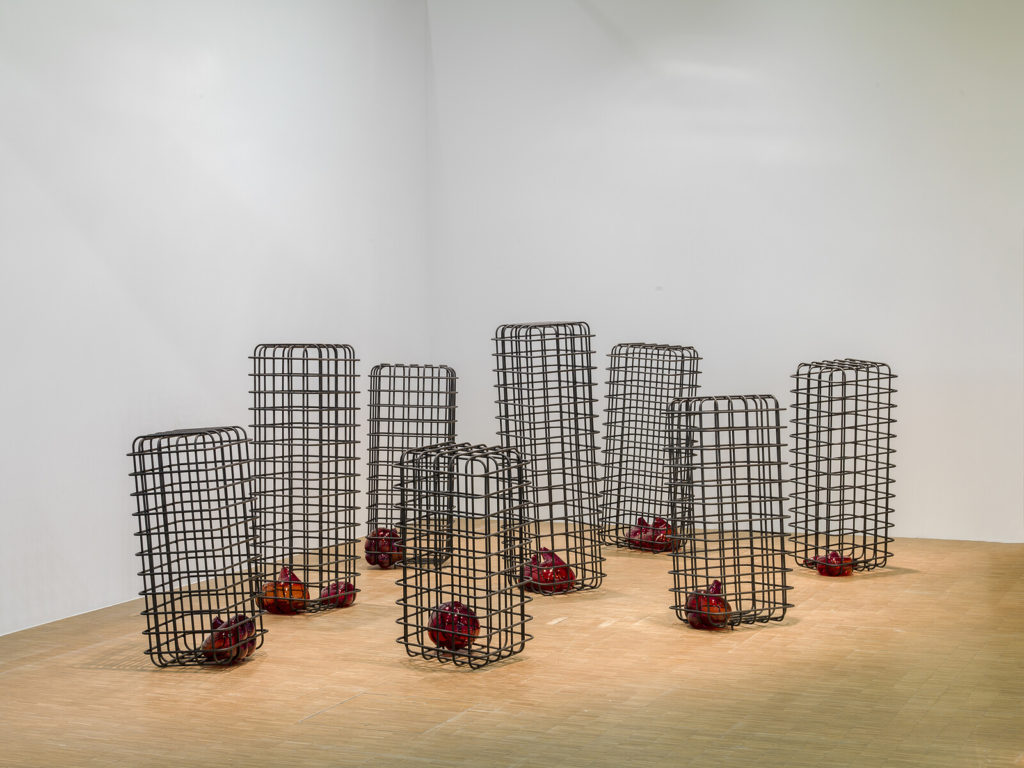 Image: Mona Hatoum Cellules 2012-2013 Mild steel and hand-blown glass in eight parts 170cm x variable width and depth, Installation view at Centre Pompidou, Paris (c) Mona Hatoum. Courtesy Galerie Chantal Crousel, Paris (Photo: Florian Kleinefenn)
FRIDAY MAY 5, 2017
12:00pm–1:00pm Arrivals, Lunch, and Introductions
1:00pm–2:00pm
FREUD, DEWEY, AND AL-GHAZALI IN 1950s IRAQ
ʿAli al-Wardi and the Miracles of the Unconscious
Presenter: Sara Pursley, Middle Eastern and Islamic Studies, NYU
Discussant: Rubén Gallo, Spanish and Portuguese, Princeton University
2:15pm–3:15pm
THE SELF AND THE SOUL
Psychoanalysis and Islam in Modern Egypt
Presenter: Omnia El Shakry, History, UC-Davis
Discussant: Dagmar Herzog, History, CUNY Graduate Center
3:15pm–3:45pm: Coffee Break
3:45pm–4:45pm
THE JURISPRUDENCE OF THE SOUL
Presenter: Stefania Pandolfo, Anthropology, UC-Berkeley
Discussant: Ranjana Khanna, English, Women's Studies, and Literature, Duke University
One hour will be dedicated to discussing each paper. Presenters will confine their comments to 5-10 minutes of introductory remarks in order to allow for discussants to present their thoughts (in 15-20 min.) and leave ample room for general discussion. All participants in the workshop are asked to read the papers in advance.
SATURDAY MAY 6, 2017
9:30am–10:00am: Arrivals, breakfast
10:00am–11:00am
PSYCHOANALYSIS UNDER OCCUPATION
Non-Violence as a Psychic Extension of the Closure System
Presenter: Stephen Sheehi, Middle East and Arabic Studies, College of William and Mary
Discussant: Zahid Chaudhary, English, Princeton University
11:15am–12:15pm
MELANCHOLY ISLAM
Presenter: Nouri Gana, Comparative Literature & Near Eastern Languages and Cultures, UCLA
Discussant: David Eng, English, University of Pennsylvania
12:15pm–1:00pm Lunch
1:00pm–2:00pm
THE IMAGINAL WORLD AND MODERN OBLIVION
Kiarostami's Zig-Zag
Presenter: Joan Copjec, Modern Culture and Media, Brown University
Discussant: Rosalind Morris, Anthropology, Columbia University
2:00pm–3:00pm
WRAP UP/DEBRIEF
Moderated by Sara Pursley and Omnia El Shakry, Workshop Chairs
Special issue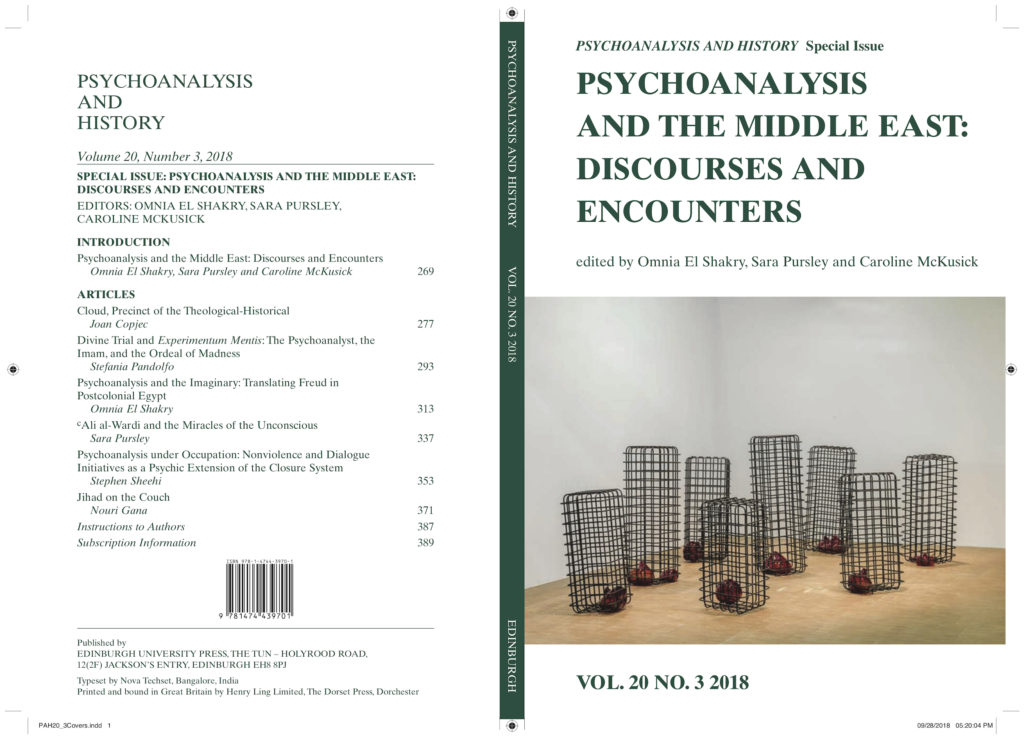 Psychoanalysis and the Middle East: Discourses and Encounters, coedited with Sara Pursley and Caroline McKusick, Special Issue of Psychoanalysis and History vol. 20, no. 3 (December 2018).
This special issue stages an encounter between psychoanalysis and the Middle East by reopening the psychoanalytic canon to consider key concepts through unexpected interlocutors, religious traditions, and intellectual formations. This includes bringing Islamic philosophical concepts of the Cloud to bear on conceptions of causality and après coup; and thinking from the point of view of the Last Judgment in dialogue with the therapeutic work of a Moroccan imam and the Lacanian analyst Fouad Benchekroun. Authors also recover lesser-known histories of psychoanalytic theory: in the work of Egyptian psychoanalyst Sami-Ali, who developed a distinctly expansive theory of the imaginary influenced by Islamic apophatic theology and his own clinical work; and in Iraqi sociologist ʿAli al-Wardi's critical reevaluation of the unconscious, via the Islamic revolutionary tradition, as a source of the miraculous. Moving to the contemporary era, chapters tackle the various uses of psychoanalysis in 'dialogue initiatives' that delegitimize Palestinians' use of violence in Palestine/Israel; and in efforts to 'lay on the couch' the figure of the jihadi in contemporary France in the service of a secular modernizing project. Engaging critical theory, history, anthropology, and Islamic studies, this special issue will be of interest to all those concerned with psychoanalysis in relation to a geopolitical elsewhere.