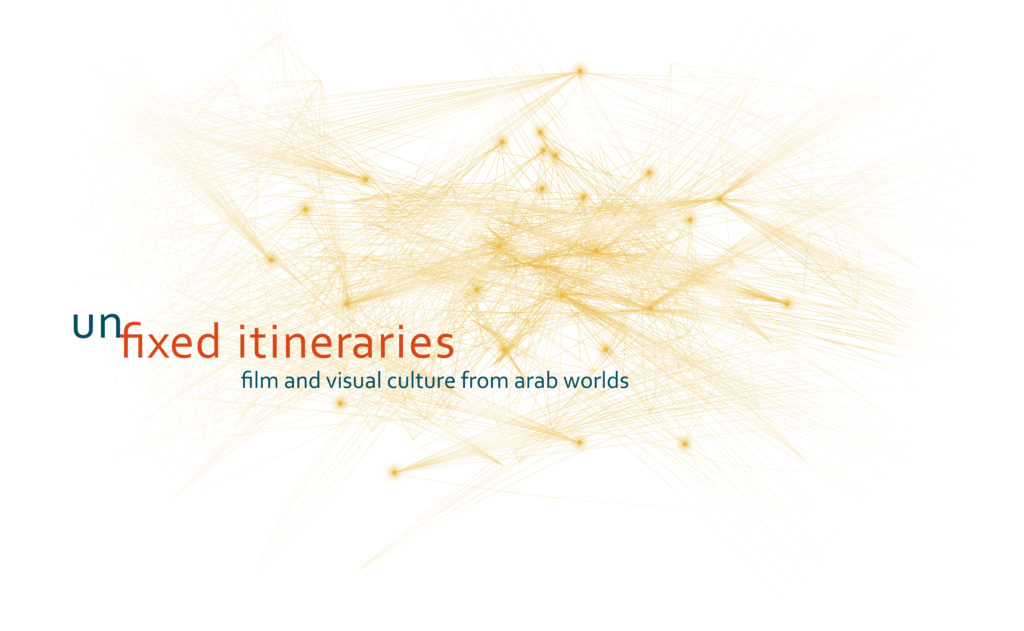 A two-day symposium of scholars and artists, and an exhibition of visual art
October 25 – 26, 2013
Digital Arts Research Center (DARC)
UC Santa Cruz ↗
Unfixed Itineraries Exhibition
Mary Porter Sesnon Art Gallery
October 25 – December 10
Hassan Khan, Zineb Sedira, Marie El Khazen
Reception October 25, 5 – 7pm
Moumen Smihi, Poet of Tangier
Pacific Film Archive, Berkeley
October 10 – 27
This symposium on Arab film and visual culture emphasizes its plurality, the complex itineraries by which it is produced, and the multiple trajectories through which it can be experienced. Artists and scholars will visit from Lebanon, Morocco, Egypt, Syria, Europe and the US. Work presented will cover a wide area of forms, styles and thematic concerns.
Symposium screenings, panels and presentations will address topics such as: Movement and Extra-territoriality; Itineraries of Intertextuality; Past, Present and Future Itineraries; Narrative and non-Narrative Itineraries; Archives, Images, Memory.
Featuring participation and work by:
Livia Alexander • Michael Allan • Ahmed Bouanani • Dore Bowen • Ali Cherri • Kay Dickinson • Tarek El-Ariss • Nouri Gana • John Greyson • Lamia Joreige • Hassan Khan • Marie El Khazen • Sunaina Maira • Nabil Maleh • Susette Min • Stefania Pandolfo • Larissa Sansour • Zineb Sedira • Jeffrey Skoller
With special guest: Moumen Smihi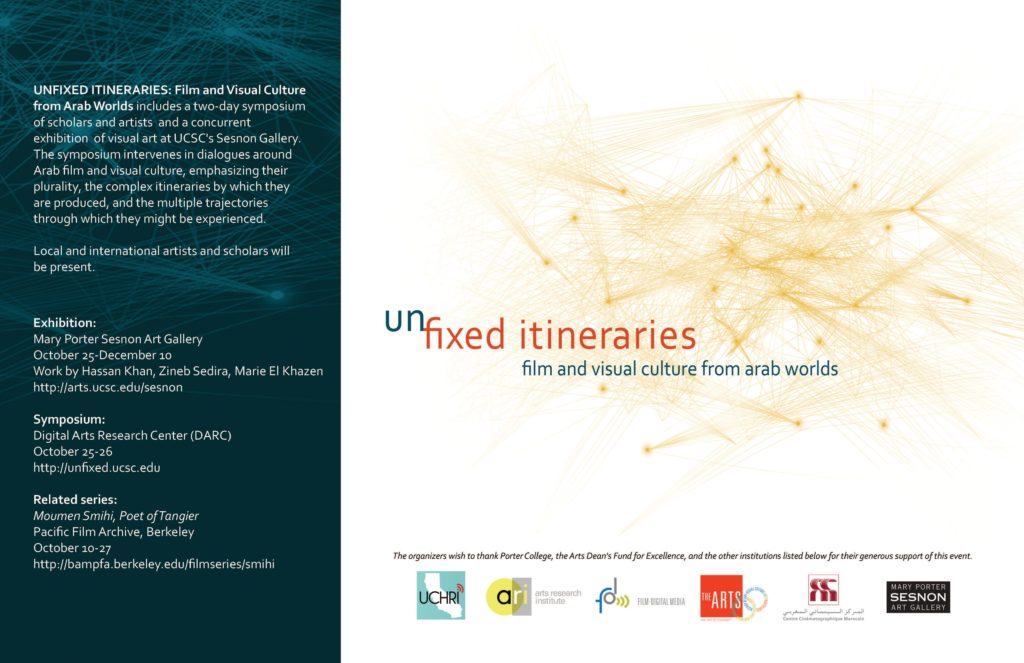 Organizers
Peter Limbrick
Associate Professor, Film and Digital Media, UCSC
Omnia El Shakry
Associate Professor, History, UC Davis
UCSC Steering Committee
Shelby Graham, Director/Curator, Sesnon Art Gallery
Soraya Murray, Assistant Professor, Film and Digital Media
Irene Lusztig, Assistant Professor, Film and Digital Media
Neda Atanasoski, Associate Professor, Feminist Studies
Jennifer Derr, Assistant Professor, History
Sponsors
The organizers wish to thank Porter College, the Arts Dean's Fund for Excellence, the Department of Feminist Studies, the UC Davis Division of Social Science, the UC Davis Institute for Social Sciences, and the other institutions listed below for their generous support of this event.
Related Event
THURSDAY OCTOBER 24
7.00pm: Pacific Film Archive, Berkeley.
44, or Tales of the Night (1981, dir. Moumen Smihi) 110min
Followed by "Afterimage" conversation with Moumen Smihi and Peter Limbrick.
Symposium
FRIDAY OCTOBER 25
All events in DARC 108 ("The Dark Lab")
9.15-9.45am: Coffee, DARC lobby
9.45am Welcome (Peter Limbrick and Omnia El Shakry)
10.00am-12.00pm Panel 1: Movement and Extra-Territoriality
Kay Dickinson, Associate Professor, Film Studies, Concordia University
Livia Alexander, Senior Advisor, Al-Riwaq Art Space, Bahrain
Nabil Maleh, Film Director and Producer, Damascus/Dubai
Chair: Soraya Murray, Assistant Professor, Film & Digital Media, UC Santa Cruz
12.00pm-1.00pm: Lunch
1.00pm-2pm: Interviews, free time
2.00-2.45pm Screening
Si Moh, pas de chance (Si Moh, the Unlucky Man) dir. Moumen Smihi (France, 1971) 18min Bluray
Six et Douze, dir. Ahmed Bouanani, Abdelmajid R'chich, Mohamed Abderrahman Tazi. (Morocco, 1968) 18min Bluray
14.3 Seconds, dir. John Greyson (Canada, 2008) 9min DVD
2.45pm-3pm: Coffee.
3-5pm
Panel 2: Itineraries of Intertextuality
Nouri Gana, Associate Professor, Comparative Literature/NELC, UC Los Angeles
Stefania Pandolfo, Associate Professor, Anthropology, UC Berkeley
Moumen Smihi, Filmmaker, Paris/Tangier
Chair: Peter Limbrick, Associate Professor, Film & Digital Media, UC Santa Cruz
5pm-7pm Sesnon Gallery Reception, Porter College, UCSC: Opening reception for exhibition "Unfixed Itineraries." Video installations by Zineb Sedira, Hassan Khan; photographs by Marie El Khazen (Arab Image Foundation).
5pm-7pm Sesnon Gallery Reception, Porter College, UCSC: Opening reception for exhibition "Unfixed Itineraries." Video installations by Zineb S
7pm-8.30pm DARC Building
Screening and Q+A:
Pipe Dreams, dir. Ali Cherri, (Lebanon/France, 2012) 7.03min DVD
Muslim Gauze R.I.P., dir. Hassan Khan (Slovenia, 2010) 8'8″min. Bluray
Nation Estate, dir. Larissa Sansour (Denmark/Palestine, 2012) 9min. Bluray
Related Event
SUNDAY OCTOBER 27
7.30pm: Pacific Film Archive, Berkeley.
Tanjawi: Sorrows of a Young Tangerian (dir. Moumen Smihi, 2012; 95min) Moumen Smihi in attendance
SATURDAY OCTOBER 26:
DARC Building:
8.30-9.00am Coffee
9.00am-11.00am
Panel 3: Past, Present, and Future Itineraries
Sunaina Maira, Professor, Asian American Studies, UC Davis
Susette Min, Associate Professor, Asian American Studies, UC Davis
Larissa Sansour, Artist, Palestine/London/Copenhagen
Chair: Jennifer Derr, Assistant Professor, History, UC Santa Cruz
11.00-11.30am: Coffee
11.30-1.00pm
Presentation: Nabil Maleh, followed by Q+A
Moderator: Omnia El Shakry, Associate Professor, History, UC Davis
1.00-2.30pm: Lunch
2.30pm-3.30pm Screening:
Nights and Days (2007, 17min) and A Journey (2006, 41min) (Lamia Joreige)
3.30-4pm: Coffee
4pm-6.20pm
Panel 4: Archives, Images, Memory
Michael Allan, Assistant Professor, Comparative Literature, University of Oregon
Dore Bowen, Associate Professor, Art History/Visual Culture, San José State University
Ali Cherri, Artist, Paris/Beirut
Tarek El-Ariss, Assistant Professor, Middle Eastern Studies/Comparative Literature, University of Texas at Austin
Chair: Neda Atanasoski, Associate Professor, Feminist Studies, UC Santa Cruz